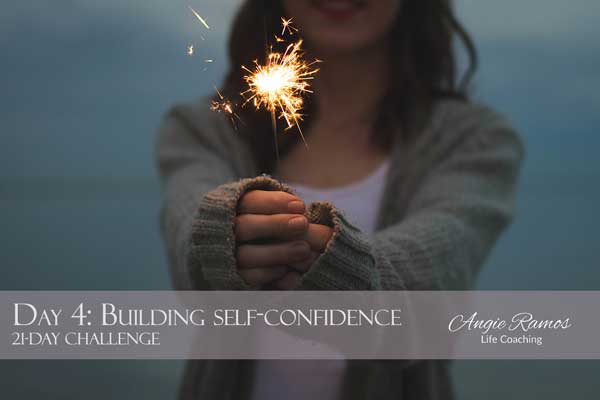 Building self-confidence
Being confident is a little bit different than having a healthy self-esteem, self-confidence means that you know you are the creator of your own reality, knowing that you are capable of achieving everything you set your mind into and most of all knowing that you deserve to have a successful and beautiful life.
The thing is that we continuously have thoughts and repeat phrases that undermine our self-confidence. Most of the time, we don't even realize that we frequently do this. We tend to think that we can't this or do that, or maybe we think that everything we do is wrong or that we don't deserve to be happy, rich or have success.
The importance of being confident
It is critical for you to realize that the way you perceive yourself is the way you show yourself to other people and this is how they tend to think of you. For example, when you lack confidence you behave as a timid person when you are with other people.
"Once we believe in ourselves, we can risk curiosity, wonder, spontaneous delight, or any experience that reveals the human spirit"
― E.E. Cummings
Self-confidence is not something you can learn based on rules or something you can pick up in a book; confidence is a mental state. Some ways you can use to start building your self-confidence are:
Think and act positively. Try to maintain a positive attitude and start being mindful of your thoughts and the things you say. This will help you to identify the negative ideas you continuously have and will assist you in changing them.
Practice, even if you don't feel you are confident enough yet, you have to act as if you were.
Dress up nice. Just the act of dressing up helps you to start feeling good when you look good, you feel good.
Fix your body language. Stand tall and walk straight. Adjusting your posture will help you greatly in feeling good and feeling confident in yourself.
Self-confidence comes from the feeling that you are good, from your self-acceptance and self-esteem and believing that you have the abilities, the capability, and the experience.
Habits that will help you build your self-confidence
The best way to boost self-confidence is to change the way you think about yourself and life. To do this you have to start changing the ideas and concepts you have about yourself, to do this you have to be more conscious of these thoughts. Start by analyzing the way you speak of yourself, the way you define yourself, and so on.
Identify your Strengths and Weaknesses
When you have a clear picture of the things that you can do you are more realistic and tend to be more positive. At the same time, when you recognize those things that you are not that good with, gives you the chance to improve those things. Start by making a list of all your strengths and then another list with your weaknesses. Analyze these lists, celebrate your strengths and your manage your weaknesses and invest some time in improving them.
Accept that we all make mistakes
Sometimes we think that we are the only ones that could make mistakes, and that is such a bad thing to have bad things turn out in our lives. The reality is that mistakes are a part of life, if we keep being scared of failure most probably we won`t try as many things as we could or as we wanted to. Try to be open to failure, accept that every mistake you make is an opportunity to grow and to learn new things.
Gracefully accept compliments
When someone says something nice about you or recognize that you did something good, don't try to diminish it or act as if it wasn't a big deal. The thing is sometimes we are afraid of being recognized, or we don't know what to say, but the root of all this is that we feel we are not worthy of admiration. By identifying your strengths you will start accepting that you can do a lot of good things, this will help you to know that you are worthy of admiration and that you are good.
If you receive a compliment and you don't know what to say, just say "Thank you," that's all you need.
Stay positive y try to avoid negative situations
Try to maintain a positive mind frame and a positive attitude. By avoiding participating in harmful activities like criticizing other people or any situation where you don't feel comfortable. You also have to realize that when you are hard on other people, you are hard on yourself too. You have to learn to be
You have to learn to be more positive when you are discussing situations, try to focus on the improvements rather on the negative stuff.
When you are dealing with someone else, try to identify his/hers strengths and positive attributes rather on their negative traits and what annoys you.
Affirmation of the day to boost your confidence
Try to repeat this affirmation for the rest of the day and practice being more confident.